Inferno – Nytt festivalhotell
We are proud to announce that the Inferno Metal Festival has joined forces with one of Oslo's landmark hotels; Clarion Hotel Royal Christiania.
Clarion Hotel Royal Christiania will now offer their hospitality to the Inferno participants.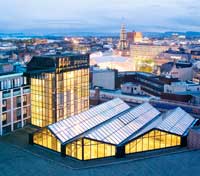 Clarion Hotel Royal Christiania is a four star hotel right in the centre of Oslo with only 5 minutes walk from the Rockefeller festival venue. Located in the heart of Oslo the hotel is just down the street from hot spots like Garage and Elm Street. Across the street you find the main central train station with direct access to the airport and all major cities. No more taxi rides! Another cool thing is that now the whole Inferno family will stay at the same hotel. The previous years at Scandic Hotels has been good, but we've been divided into two separate hotels. Now all audience, artists, media and music business attendees will stay under the same roof.
Check out the facilities:
http://www.action-photo.no/multiplayer/clarionroyal/30/Tourviewer_ch_royal_v6.html
During the festival period from March the 28th to April the 5th Clarion Hotel Royal Christiania offers rooms at these rates*:
Double room: NOK 999,- (only NOK 449,5 each person) per night including breakfast.
Single room: NOK 666,- per night including breakfast.
Extra bed in room is possible at a low cost. NOK 240,- per night including breakfast.
Breakfast are served between 08:00 HRS and 12:00 HRS
Metal radio 24/7 (T1 metal fave playlists)
Inferno TV-channels
Free internet
Hotel bar
*These rates are available to the 15th of February. After this date the prices will go up with approximately 20%. Money to save for all early birds!
Avoid disappointment and book your room direct:
E-mail: inferno.christiania@choice.no
Tel. + 47 23 10 80 92
Important: Give the reference code "Inferno" to get the festival price.
Clarion Hotel Royal Christiania
Biskop Gunnerus gate 3
N-0155 Oslo, Norway
Tel. + 47 23 10 80 00
Fax: +47 23 10 80 80,
E-mail: cl.christiania@choice.no
www.clarionroyalchristiania.no