DAUFØDT – new video and tourdates posted
Photo: Brage Pedersen
DAUFØDT:
New Video and Tourdates Posted; Sophmore Full-Length "Aromaterapi" From Norwegian Noise Punks Out Now via FYSISK FORMAT
DAUFØDT: New Video For The Track 'Religiøs Terror' (Vader War Cover) Posted; Taken From The Album Recording Sessions; Sophmore Full-Length "Aromaterapi" From Norwegian Noise Punks Out Now via FYSISK FORMAT; Tourdates For Denmark and Norway Posted; Watch 'Religiøs Terror'
RIGHT HERE
and Listen to the Album in its Entirety
HERE.
Order HERE


The band says: "- One of the two main goals with the record has been to push ourselves to the absolute limit. Much of the music that both we and Lasse appreciate is music that pushes itself to the point that you fear that everything will fall apart. It is this excitement and energy that we have tried to capture.

The second goal has been to create an album where the listener does not know where he has us – that the listener should not feel safe with us and the album – it should not be pleasant to listen to Aromaterapi."
Hailing from the dark and religious south of Norway, Daufødt released their first single in 2019, and since then they've been breaking the speed limit. As one of the most sonically challenging and visually unique bands of their generation, Daufødt swept the floor of the underground with their debut album "1000 Island" and won the Norwegian grammy award in the ROCK category. When the band now is due to release the record number, they have chosen not to do it the easy way.
They could easily become the NEXT BIG NAME IN ROCK, but – no thanks! gotother things to do. Instead, the Daufødt-gang circled back to the underground, hooked up with Lasse Marhaug, associated Sunn0)))-member and recent producer of Jenny Hval and Thurston Moore. In the spirit of punk, they will continue to snarl and spit in your face rather than whisper the things you want to hear into your ear.
In case you missed it: Watch the Fantastic Video for "Knekken" RIGHT HERE or Check the Video for "Dødsangst" RIGHT HERE.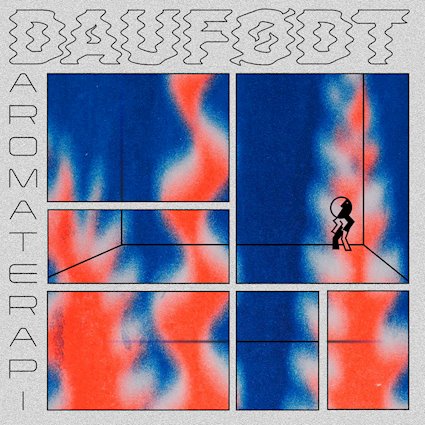 On their sophmore album "Aromaterapi", Marhaug has challenged the band on all levels and pumped them into ABSOLUTE SONIC MAYHEM-mode, giving associations to similar noise-rock-mongers as Napalm Death, Swans, The Body and Årabrot. Likewise, the scorning lyrics of the debut that made local billionaires spam singer Annika with self-righteous messenges has been sharpened into something even more destructive and dangerous.
The band says: "This album is cleary something else than the first album. It's harder, faster and more violent – and made to better fit the times we live in. The first album was written in 2019, while Aromatherapi was written in 2021, when the world looked quite different. The bold creative choices we have made with Lasse are made not to be naive, but to actually be honest with ourselves and the audience about how things really are."
Daufødt consists of bassist Eskild Myrvoll (Mall Girl, Kanaan, Blodkvalt), vocalist, visual artist and designer Annika Linn Verdal Homme, guitarist Eirik Albrethsen Reithaug (Blodkvalt) and drummer Mads Antonsen Gerzić, and they have quickly become a force to be reckoned with on the Norwegian rock scene. Daufødt is about both musical and physical transgression: a Daufødt show is a violent release of decibels and energy, while the music is all about tearing down both physical and figurative constructions. Half of Daufødt's sound is firmly based in punk, while the other half is roaming around, smashing into noise rock, free improvisation and every dark corner of the underground imaginable. With the help from producer and noise-guru Lasse Marhaug they push the limits of punk music and achieve their ultimate goal: no listener should ever feel safe.
Tourdates:
13.10 – Bastard, Tromsø
14.10 – AKS, Hammerfest
15.10 – Kooperativet, Vadsø (RIV)
20.10 – Rokken, Volda
21.10 – T2, Ålesund
22.10 – Fuzzy, Molde
17.11 – Blå, Oslo
18.11 – Stengade, København
19.11 – 1000Fryd, Aalborg
25.11 – Kroa i Bø
26.11 – Rockeklubben i Porsgrunn
01.12 – Landmark, Bergen
02.12 – Tou, Stavanger
03.12 – Vaktbua, Kristiansand
08.12 – Dama di, Bodø
09.12 – BråK, Mo i Rana
10.12 – Trondheim, Verkstedhallen & Lobbyen
Daufødt
facebook