ALICE IN CHAINS til Bergen (15/6)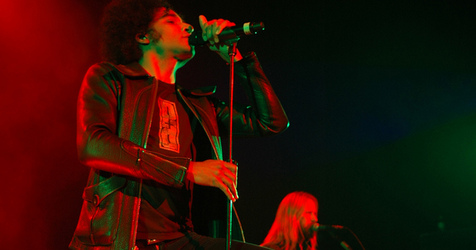 Alice In Chains deler scene med Rammstein i Bergen 15. juni!
De tyske megarockerne Rammstein får celebert selskap når de kommer til Bergen i sommer. Med seg har de ingen ringere enn grungepionerene Alice in Chains. Fjorårets comeback "Black Gives Way to Blue" ble hyllet som et mesterverk av både fans og presse. Blant annet kåret musikkmagasinet Classic Rock den til årets beste album i sin oppsummering av 2009.
Alice in Chains tok sine første vaklende skritt i Seattles undergrunn på tampen av 80-tallet – helt siden den gangen har karrierestigen vært kronglete og preget av motgang, noe som toppet seg med vokalist Lane Staleys død i 2002.
Med plater som "Facelift" og "Dirt" jobbet bandet seg i løpet av 90-tallet opp som et av grungens toppnavn ved siden av Nirvana, Pearl Jam og Soundgarden. Alice in Chains malte sine bekmørke bilder av heroinmisbruk og tenåringsangst med bred pensel, noe som ga bandet en helt ny arena. Delvis fordi publikum ville ha jordnær virkelighet etter 80-tallets høytflyvende posering.
Der Pearl Jam søkte mot Neil Young, speidet Alice in Chains mot Black Sabbaths seige riffverden. Med karakteristiske tostemte melodier, suggererende rytmer og et bunnsolid riffmaskineri, solgte Alice in Chains i løpet av noen hektiske år 17 millioner plater, innkasserte seks Grammy-nominasjoner og toppet Billboards albumliste to ganger.
Etter Staleys død ble bandet lagt på is frem til 2005, da Jerry Cantrell bestemte seg for å prøve lykken med ny vokalist. Det hører med til sjeldenhetene at et band tåler et vokalistbytte av et slikt format. AC/DC klarte mot alle odds å gjøre tragedie til suksess da Brian Johnson erstattet Bon Scott i 1980, ellers er det langt mellom solskinnshistoriene.
William DuValls inntreden i Alice in Chains hører derimot til unntakene. Ikke bare er han en fantastisk frontfigur, han har også en stemme som gir bandet en helt ny dimensjon samtidig som den yter det klassiske materialet all mulig rettferdighet.
Dato: Tirsdag 15. Juni
Sted: Bergenhus Festning – Koengen
Portene åpner: kl 18.00
Første band på scenen ca kl 19.00.
Alice In Chains på scenen ca kl 20.00. Rammstein på scenen ca kl 21.30.
Billettpris: kr 725 + avgift
Billetter i salg via Billettservice tlf 81533133 og www.billettservice.no
Presentert av Bergen Live og Live Nation