THE KOVENANT fremfører Nexus Polaris Live under Inferno 2010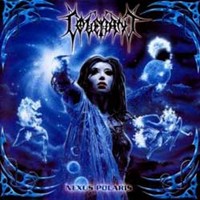 INFERNO FESTIVALEN 2010
– KOVENANT spiller hele Nexus Polaris albumet live!
Eksklusiv og unik KOVENANT konsert på INFERNOS ti-års jubileum. Bandet spiller hele Nexus Polaris skiva med disse originale medlemmene fra albumet; Nagash, Psy Coma, Hellhammer, Sverd & Jezebel Deva!
For tiende året på rad sørger Inferno festivalen for beksvart metal påske i hovedstaden. Inferno drar metalfans og musikkbransje fra hele verden til Oslo i påskedagene og regnes som en av de viktigste arenaene for norske og internasjonale band å vise seg på. Sammen med KOVENANT er legendariske Mayhem , Taake fra Bergen og finske Finntroll bekreftet til ti-års jubileumet. I 2010 samler Inferno festivalen internasjonal media, musikkbransje og fans på Royal Christiania Hotel for konferanser, expo og utstillinger. Hovedscene på Rockefeller og John Dee med egen klubbdag på Rock In, BLÅ, Garage, Victoria og Revolver – Fire dager, 45 band og helvetes bra musikk!
KOVENANT
KOVENANT ble dannet i 1992 av black metal artistene Nagash(Stian Arnesen) og Blackheart/ Psy Coma (Amund Svensson) som ga ut første skiva In Times Before the Light i 1997. I 1998 fikk de platekontrakt med det tyske plateselskapet Nuclear Blast og fikk med seg Sverd (Arcturus), Sarah Jezebel Deva (Cradle of Filth), Hellhammer (Mayhem) og Astennu (Dimmu Borgir, Carpe Tenebrum) i bandet. Samme året ga de ut den legendariske skiva Nexus Polaris som de også mottok spellemanns-prisen for i 1998. Tidlig KOVENANT kan minne om Dimmu Borgir, noe som er naturlig siden Nagash har både spilt og samarbeidet med bandet opp gjennom årene. På Nexus Polaris skiva beveger de seg mer mot industriell elektronisk metal men fortsatt med klare referanser til symfonisk black metal. Nexus Polaris ble gjenutgitt i 2002 med to nye versjoner av låta New World Order fra albumet Animatronic, som de også fikk spellemannsprisen for i 1999. Originallåtene på Nexus Polaris ble stående urørt. KOVENANT har utviklet seg fra å være et symfonisk black metal band og regnes i dag som et industrimetalband så konserten på INFERNO blir en reise tilbake til begynnelsen. Bandet består i dag av Stian Arnesen (Nagash/Lex Icon) vokal, bass og keyboards. Amund Svensson (Blackheart/Psy Coma/Pzy-Clone) – guitar og keyboards. Begge musikk- og låtskrivere fra 1993 til I dag. Albumet Nexus Polaris regnes av fansen for å være bandets beste og det blir en helt unik og spesiell konsertopplevelse når KOVENANT entrer scenen under INFERNO. Gled dere folkens, det her blir historisk!