VOYAGER – first track from upcoming album
VOYAGER announce new album and release first track "Prince of Fire"
Perth's fearless, riff-laden, genre-bending band VOYAGER are back with their long-awaited eighth studio album 'Fearless In Love', scheduled for release on July 14th via Season Of Mist
Pre-orders are now live HERE.
In addition to the announcement of 'Fearless in Love', VOYAGER has released a new song from the album, "Prince of Fire", which now is available via all digital service providers HERE. The music video can be found HERE.
On 'Fearless in Love', sweeping vocals paired with emotive lyrics inspired by the grit and glam of 80s and 90s film overlay heavy guitar riffs and percussion to create a sonic journey that pushes the boundary of what fans have come to expect from VOYAGER.
"Fearless in Love was written and recorded between 2020 and 2022. The writing process was very different from how we've done things in the past," explains Danny Estrin. "As a result, the album is more cohesive and exciting with a cinematic feel, hailing back to gritty films of the 80s and 90s showcasing all the layers that make up Voyager. This album takes you on a ride through a dark city and leaves you on a more pensive, reflective note by the end."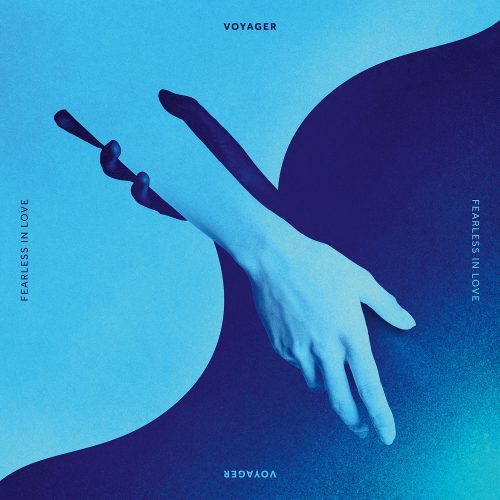 The Best Intentions
Prince of Fire
Ultraviolet
Dreamer
The Lamenting
Submarine
Promise
Twisted
Daydream
Listen
Gren (Fearless in Love)
Voyager are renowned for shattering expectations and their resilience and determination is second to none. A band that has toured the world many times over and built an extremely loyal fanbase, the tables are about to turn for a band that has never been deterred in the face of adversity. Voyager's music has had a contagious impact around the world, and their latest European tour saw an influx of fans that were instantaneously won over by Voyager's electric live performance.
The genre-transfiguring quintet blend new-romantic and 80's infused vocals, keytar solos, technical yet melodic fretwork, groovy bass and bombastic drumming efforts. All of which make Voyager the progressive pop metal force that they are renowned as today.
A story of passion, perseverance and patience, VOYAGER have been throwing their hat in the ring for the Eurovision Song Contest since Australia announced its participation in 2015. Eight years of fan support, song submissions and a public vote landslide later, VOYAGER have been awarded a hugely deserved opportunity to represent their country in 2023 at the Eurovision Song Contest in Liverpool, UK.
Their song 'PROMISE' is an epic progressive pop metal offering that transports the listener on an emotive story of adventure and redemption. 'PROMISE' is out now and is sure to provide the soundtrack to those seeking adventure, but also reassurance when exploring uncharted territory.
Line-up:
Danny Estrin : Vocals/Keytar
Simone Dow : Guitars
Scott Kay : Guitars
Alex Canion : Bass
Ashley Doodkorte : Drums
http://www.facebook.com/voyageraustralia/