NORWEGIAN BLACK METALLERS NATTVERD REVEAL NEW TRACK+DETAILS FROM UPCOMING ALBUM
NORWEGIAN BLACK METALLERS NATTVERD REVEAL NEW TRACK AND DETAILS FROM UPCOMING ALBUM
With their sophomore full-length album "Styggdom" set for release on Osmose Productions on the 31st January 2020, fans of Norwegian Black Metallers NATTVERD get their first taste of what to expect from the album with the debut of the track "Dragsvoll", which can be heard below and at https://youtu.be/02P3z2u_zU4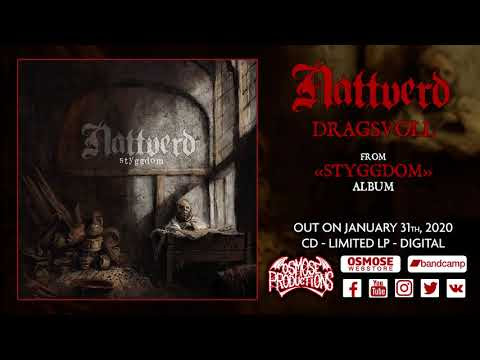 Formed two years ago, and with a lineup of extremely experienced and talented musicians, comprised today of Serpentr on vocals, Ormr on Vocals and Guitars, Atyr on Guitars, Sveinr on bass. and Anti Christian on session drums, NATTVERD has always sought to keep the actual identity of those musicians private, preferring that the band be judged purely on its music, as opposed to any former, current, or future, bands or releases its members may be involved in.
NATTVERD's extremely successful debut album "Vi Vet gud Er En Løgner" showed a band that played Black Metal in the traditional way – cold and nasty and filled with fury and hate. But with "Styggdom", NATTVERD have grown and expanded, to come up with a much more varied, atmospheric, album. An album that shows just how versatile this band can be when it comes to delivering Black Metal.
Drums, Bass, Guitars and Vocals for "Styggdom" were recorded at Velvet Recording, Spydeberg, Norway and engineered by Nattverd and Christer Krogh. Mixing and mastering was handled by Tore Stjerna at the Necromorbus Studios.
With artwork, layout and design by Khaos Diktator Design, "Styggdom" will be available in CD, Digital and Limited Edition LP formats. Tracklisting is as follows:
Slakt Dem, Der De Loeper Hoedeloese Rundt Baalet
Dragsvoll
Skoddeskott
Heksebrann
Gatelangs I Land Og Rike
Gamle Erik
Hedninger Av En Svart Verden
Guds Djevelske Naervaer