LEGENDARY SHACK SHAKERS til Bergen (29/6)
Th' Legendary Shack Shakers til Bergen 29. juni!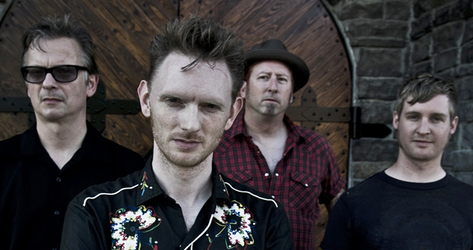 Rå, rølpete punkabilly med sterke, rent ut misjonerende tekster er The Legendary Shack Shakers (TLSS) i et nøtteskall. Kombinert med et sceneshow som verden aldri har sett maken til. Du tror det ikke før du ser det, og når du har sett dem er du garantert noen illusjoner fattigere. På scenen fremstår bandets ubestridte frontmann JD Wilkes som en miks av Tom Waits og Iggy Pop. Eller Kaizers Orchestra på speed om en vil…
Tirsdag 29. juni kl 22.00 entrer bandet scenen på intime Garage i Bergen! Billetter kr 225/175 (BT-Kortet og grupper over seks) + avgift i salg nå via Billettservice. Aldersgrense 18 år.
TLSS er det eneste som har hatt fast plass i Bergenfest-programmet fem år på rad. I perioden 2004 – 2008 rocket bandet byens konsertscener slik det aldri har vært gjort før. Nå er de altså tilbake i byen de kaller sitt "home away from home".
Hank Williams III, selv litt av en villmann og det nærmeste en kommer adelskap innenfor sjangeren, har sagt at å turnere med TLSS "was like having SLAYER open up for you every night," og omtaler JD Wilkes og hans band som "the best damn front man and band in America." Ingen dårlig attest…
Deres nye album Agridustrial kom i april i år og har fått sterke kritikker. Les mer her!
Noen vil kanskje så tvil om det er helt sunt å holde på slik Colonel JD Wilkes og gjengen gjør. At TLSS i en periode skiftet trommeslager i så høyt tempo at de sluttet å ta bandbilder med trommeslager tilstede er kanskje et tegn på akkurat det… Brett Whitacre har imidlertid stått for trommingen de siste årene. Sammen med Colonel JD Wilkes på vokal/harmonika, bassist Mark Robertson og den nye gitaristen Duane Denison (Jesus Lizard, Hank III og Tomahawk) er dette en besetning som det lukter svidd av.