MUSE til Bergen (23/7)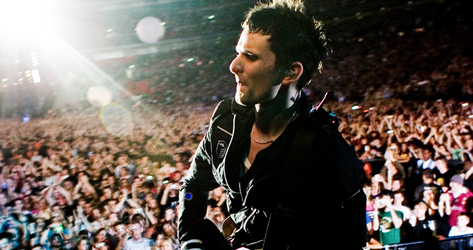 Muse til Bergen fredag 23. juli!
Den britiske sensasjonen Muse kommer til Bergenhus Festning – Koengen fredag 23. juli.
I fjor besøkte velrenommerte verdenstjerner som Bruce Springsteen, The Eagles og Coldplay Koengen på Bergenhus Festning. Så langt har vi annonsert Iron Maiden og Rammstein som noen av årets store trekkplaster. Men festen stanser ikke der. Folk har i lengre tider spurt seg hvem som skal ta over staffettpinnen etter artister som Rolling Stones og U2 som neste generasjons stadionband. Muse er svaret. Den britiske trioen har de siste ti årene gått fra å være et lite klubband til å fylle voldsomme Wembley Stadium to dager på rappen. Det er intet mindre enn 160.000 solgte billetter. En bragd bare Foo Fighters og Coldplay har gjort etter dem, band som med stor suksess har besøkt Bergenhus Festning – Koengen de siste par årene…
Det ordinære billettsalget starter mandag 22. mars kl 09.00.
Bandet debuterte med albumet Showbiz i 1999 og la allerede da grunnlaget for det som har blitt trioens musikalske vinnerformel. Med Queens hang til barokke arrangementer, kombinert med Radioheads intense melodiføring og frontfigur Matthew Bellamys halsbrekkende gitarspill, har de skapt en kraftpakke som fremdeles spiser til seg tilhørere i stort tempo.
Muse har solgt millioner av plater og mottatt en drøss med priser underveis, deriblant både Q Awards, NME Awards og Brit Awards.
Bandet overlater heller ingenting til tilfeldighetene når de gir konserter. Med et lysshow av abnorme proporsjoner og et band som stadig sprenger trioformatets lydmessige begrensninger, er du garantert en pakke som byr på like mye konfekt for øyne som ører.
Bandets siste plate The Resistance toppet listene i hele 19 land og med påfølgende gigantkonserter over hele verden har Muse for alvor befestet sin posisjon som et av verdens største band i 2010. Igjen står Bergen på turnéplanen når de aller heteste artistene skal ut og spille for sine fans!
Dato: Fredag 23. Juli
Sted: Bergenhus Festning – Koengen
Portene åpner: kl 18.00
Billettpris: kr 650 + avgift / Golden Circle kr 1000 + avgift
Muse web: www.muse.mu
Billetter i salg via Billettservice tlf 81533133 og www.billettservice.no fra mandag 22. mars kl 09.00!
Presentert av Live Nation og Bergen Live
www.livenation.no // www.bergenlive.no